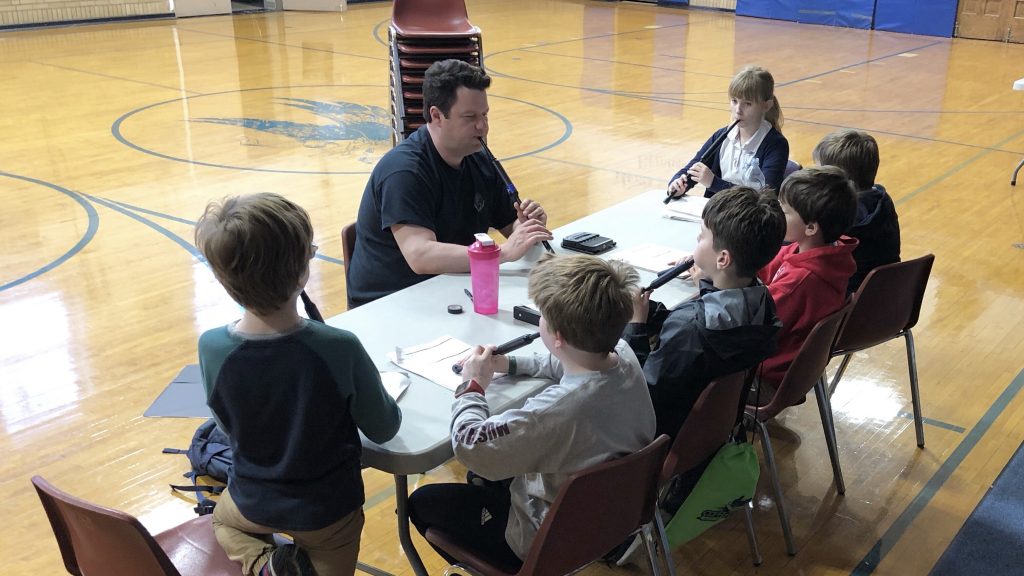 The mission of our piping and drumming academy is to teach and develop our students to become comprehensive musicians achieving a balance of practical excellence and theoretical understanding. With one foot firmly in past traditions, and the other pointed into the future, we are using modern tools and old methods to ensure our students get the best experience possible. Using a proven academic curriculum approach we set ourselves apart as a highly effective pipe band training system. Our faculty includes some of Chicago's most successful competitors, accomplished leaders, and respected instructors, who are committed to proper stewardship of the next generation. We believe in lifetime learning, so as we guide our students to their own success we also challenge ourselves to continually improve as musicians and educators.
---
Everything Starts Somewhere
The biggest issue for people thinking about starting to learn bagpipes or drums or anything new is often as simple as not knowing what to expect. We get it! It can be overwhelming on the first day of class when your instructor starts talking about daily practice and the months of beginner level lessons before you'll really feel like you're getting closer to being a musician than just a student.
Rest assured that your instructor will teach you all the basics necessary to become a highly competent piper or drummer. You'll be handed some training tools during your first or second class which you'll use as practice instruments for as long as you continue to pursue piping or drumming, whether that's weeks, months, years, or decades for people like your teachers. With those tools, a good work ethic, a lot of guidance along the way, it's just one-step-at-a-time until you are eventually ready to play your first performance!
After the first several weeks, you'll get the hang of it and each new skill won't feel like a whole new mountain to climb. As you find your stride in classes and home practice sessions, each new level will become less stressful. The journey toward competence and then mastery will be more and more enjoyable as you reap the rewards of your efforts!
---
Learning the Bagpipes
Every bagpiper starts learning on a practice chanter which your instructor will give you at your first lesson. The specific chanters we use have been selected by our faculty after careful consideration of their quality and durability. Practice chanters rarely need replacement and most pipers keep theirs for many years. Be mindful of where you store your chanter to prevent any significant damage. The reed inside the chanter will need more frequent replacement to maintain sound quality and playing consistency, and these can be purchased through your instructor as necessary.
The first step to bagpiping is learning the scale. Bagpipes only have 9 notes which means learning to go up and down the scale is the foundation of eventually playing an entire library of tunes. As you begin working on notes and basic combinations, your hand posture and ergonomics will be addressed to give you every advantage of playing with ease. Improper finger work can negatively impact your playing ability making it harder for you to keep improving and to enjoy making music. In the first several months your instructor will also teach you musical notation so you are able to practice your exercises between lessons and eventually to learn not only class music but any tunes you would like to play. Believe it or not, no musical background is needed as we teach it from the ground up!
Finding small blocks of time every day for practice is far better than one or two longer sessions or skipping days. It's not about the hours of practice, but how consistently you stick to your routine. Ten minutes every day is more valuable than an hour once a week because shorter blocks allow focus on improving without getting tired or forgetting what you are supposed to be doing from day to day. These tried and true methods have been used by all great pipers and are a sure way to become a champion yourself someday.
---
Learning the Snare Drum
At your first session, your instructor will issue your practice pad and pipe band snare drum sticks. We carefully select all of the equipment for our classes and expect students to only use the items we have issued and to keep it in good condition. Sticks will need to be replaced from time to time, annually by our recommendation, but simple things like routine hand washing and keeping everything in a safe place between practices and classes will ensure the longest lifespan of your gear.
The first things you will need to learn are how to hold and move the sticks properly, the basics of music reading, and how to keep a steady beat. Using correct grip and movement techniques are critical to your development and also important for hand health to avoid injuries from playing in ways that can strain muscles or irritate your wrists. Understanding the written music not only ensures that you can practice effectively at home between classes by confidently reading the notes but also as you become a better drummer gives you a limitless potential of how many drum scores you can learn by reading them yourself. And finally keeping a steady beat is the primary job of a drummer, so we can drive the band!
The most important thing you can do while learning the basics is to practice every single day. You don't have to set aside hours, in fact for the first few months, you only need 15 to 20 minutes broken up into 5-minute sessions to work on your techniques and exercises. This small but consistent effort will have you playing comfortably and confidently before you know it!
---
Learning the Tenor Drum
During your first class, you will receive a pair of pipe band tenor drum mallets. These are special drumsticks and are the only thing you need to learn the unique art of tenor drumming. We select a very specific type of mallet for use by our students which will help develop good basic skills. With care during and between uses, these mallets should last a year or more. As you become a performer, you will likely end up acquiring several pairs of mallets and can always use older ones as practice gear to save wear on the newer ones.
There are two parts to becoming a pipe band tenor drummer. The fact that you are a drummer means that you will need to learn how to properly hold your mallets, basics of reading music, and how to keep a steady beat. The first few weeks of tenor drumming is focused on these basic playing skills as they form the foundation for all drummers regardless of what kind of drum they use. The next stage is integrating the infamous visual art of stick movement and spinning! It can be very exciting but is also important to be learned correctly at first so that you become so comfortable with your mallets that you can create an infinite possibility of visual displays.
You are going to need to practice. Daily attention is needed to make sure that you lock in new skills and keep improving all the time. Consider a few 5-minute sessions per day as a great way to start while you're learning the basics. This approach not only keeps it feeling fun and fresh while providing your brain and muscles a chance to get used to how tenor drummers bring music to life.
---
Tuition
Our course tuition structure is similar to almost every other folk music courses anywhere in Chicago. We strive to offer to absolute best possible instruction, in a learning-conducive environment, at the most reasonable rate possible. We offer group rates for families with multiple students involved and also have introductory offers available through popular social discounting websites.
Single Student Rate:
$80 per month for Beginner and Novice levels
Family Rates (2+ students):
$120 per month for Beginner and Novice levels
---
Equipment Costs
The initial equipment fee is $75 for each piper or drummer enrolled.
For piping students this fee purchases a practice chanter which is used to learn fingerings, blowing technique, and everything necessary to prepare for playing an actual bagpipe. For drumming students this fee purchases a practice drum pad and a pair of drumsticks which are used to learn grip, playing technique, and everything necessary to prepare for playing an actual drum. These items will be part of every piper's or drummer's career as a way of rehearsing in groups when learning new music, or practicing at home at times or in locations when using a full instrument isn't possible.
We do have specific practice equipment we want our students to be using – specific brands and types – so we strongly recommend against purchasing anything ahead of time. If you happen to already have something, we will certainly consider whether it is suited properly to our approach or if new items will need to be purchased for classes.
---
Uniform Costs
There are no uniform costs associated with beginning to learn either instrument. Once a player has reached the ability to perform in public, we can delay uniform costs further by allowing participation in recitals and other in-house performances by having students wear long-sleeved white dress shirts, with a black tie, and black pants and shoes. Eventually performing members will be "kilted" and the costs associated with personal items vs. issued items can be discussed further in the progress. One can safely assume that there will be at least 9 to 12 months before any of this needs to be decided for a complete beginner entering the system.